Elks Group Campground - Fellowship Adventures
Starts:
Jun 09
2:00 pm
Ends:
Jun 13
12:00 pm
Event Description: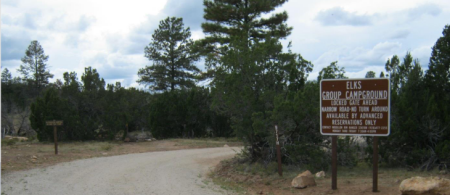 Summary:
Camping only event
Where - Approx. 60 miles NE of Payson, just West of Hwy 87
When - 2:00 PM Thursday, June 9th - through 12:00 PM Monday, June 13th
Location - Elks Group Campground (map)
Travel time - Approx 2 hours and 20 minutes from Central Campus
Camping fee - $20 per night/family/same trailer, motorhome or tent
Details:
Where
Elks Group Campground is located just West of Hwy 87 and is approximately 60 miles NE of Payson. The elevation at this campground is approximately 6,500 feet. It is situated in an area of the Coconino National Forest where the terrain begins to fade from ponderosa pines into pinyon/juniper stands. This is a fenced six-acre secluded group camp site. There are picnic benches, fire ring, a horseshoe court, poles for a volleyball net, and a small swing set. Hope you will join us.

When
The campground will be open from 2:00 PM on Thursday through 12:00 PM on Monday. Join us Friday and Saturday nights for worship around the campfire.
Location/Directions
Take I-17 north toward Camp Verde, drive 75 miles north from Calvary Main campus. Take exit 285 from I-17 N. turn right onto General Crook Trail / AZ-260. Follow AZ-260 and turn left onto AZ -87 N. Take AZ - 87 N for 65 miles to FR 9717H turn left to the entrance of Elks Group Campground. Look for Fellowship Adventures signs. (map) Alternatively, you can take Hwy 87 from Fountain Hills up through Payson. It is not as steep as taking Hwy 260 from Camp Verde.
Cost
Camping fee: $20 per night/family/same trailer, motorhome or tent
Park entrance fee: included in camping fee for first vehicle
Camping
Campsite details:
Site capacity: 1 tent and/or 1 trailer/motorhome
Water: Drinking water available (250 gallon tank)
Restrooms: Vault
Shower: No
Table: Picnic
Fire ring: Yes
Max RV length: 45 feet
Electricity hookups: No
Dump station: No
Please check in with the Event Coordinator when you arrive for your site assignment.
Campers must pre-register for the number or nights that you plan to be camping and that will accommodate 1 tent and or 1 trailer/motorhome.
Campers will be responsible for their own food. Everyone is encouraged to bring their food to the common area and fellowship with other campers.
All meals will be on your own, but again, eating in the common area is encouraged. Some campers join together for food preparation, but regardless of how you plan your meals, everyone is always welcome to eat with the whole group.
Hiking
This event DOES NOT have an organized hike, but there are some great places to explore on your own no matter what your hiking level. Normally, someone will organize an informal hike sometime during the weekend.
Children
Children are more than welcome to join this event, but please read the Children section of the "Things to Know" page before you come.
Pets
Dogs are welcome if they are well-behaved. Park regulations require dogs to be kept on a leash at all times. Remember to consider the heat before bringing Fido and please read the Pets section of the "Things to Know" page.
Other Fellowship Opportunities
One way to connect with other Fellowship Adventures participants is through the Fellowship Adventures Facebook page.
Join our mailing list

You can sign up for our mailing list here to receive early notices of upcoming events.
Ministry:
Fellowship Adventures, Hike